Women of Holy Angels – Meets the Last Sunday of Each Month
The purpose of Women of Holy Angels' (WOHA)  is to grow positively in our minds, bodies, and spirits, being mindful of our true vocations and current stations in life, while in communion with and with support of our spiritual community at Holy Angels Byzantine Catholic Church.
Women of Holy Angels take first the Blessed Virgin Mary and secondly the Holy Myrrh-Bearing Women as exemplars and spiritual mothers to which we turn to as models of true fulfillment in Jesus Christ.
Women of Holy Angels monthly program is to explore all aspects of the feminine person including: spirituality, psychology, emotional reality, and physical well-being.  Our hope is to form a sacred sisterhood within the group that will lead to true, holy, and lasting friendships among women.  Please mark your calendars for the last Sunday of Each month.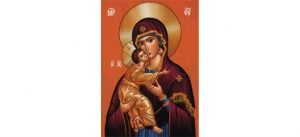 Questions?  Wish to volunteer a topic?  Please fill out comment card below.  Thank you!