Ethnic Foods
                               TASTE OUR DEVOTION!   
Kindly always call the social hall at 858-268-3458, during the hours listed below, before coming in on any particular day to confirm that the foods you desire are available and that somebody is available to handle your order.  Note:  we are only able to accept checks or cash.  Thank you for understanding.
Interested in Volunteering with Ethnic Foods and Learning How to Prepare these Foods?  Click on this calendar to see what's cooking!   https://www.timeanddate.com/calendar/events/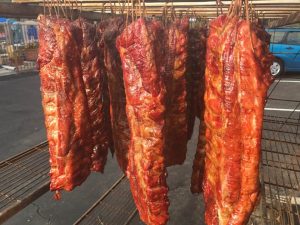 Ordinary Social Hall Hours:
Monday and Tuesday 10:00 am to 2:00 pm
Friday and Saturday 10:00 am to 2:00 pm
Sunday 10:30 am to 11:30 am.
The social hall is closed on all major holydays observed in the Byzantine Catholic Church, on civil holidays, and when no volunteers are available. Available ethnic foods and donation amounts are listed below:

Kolbasi Fresh or Smoked mild or spicy Sausage
1 link per package $9.00
Holubky Stuffed Cabbages; 6 per package $ 10.00
Kolace Apricot, Raspberry, Poppy Seed, Walnut,
or Prune Sweet Roll
1 per package $ 9.00
Rozky (Horns) Apricot, Raspberry, Poppy Seed, Walnut,
or Prune Crescent Rolls
1 dozen per package $ 7.00
Pirohi Potato with Cheese and Onion, Sauerkraut,
Prune, or Farmers Cheese
1 dozen per package $ 7.00
Seasonal specialities:

Paska Bread Easter Bread; 1 loaf per package $ 7.00
Butter Lamb Unique for Easter; 1 per package $ 4.00
Wafers Unique for Christmas Eve supper
2 per package $ 1.00